French manufacturer since 1981, Precilens is the founder of the world's first progressive soft lens. Through advances in research and constant innovations in design, our laboratory remains a forerunner in the field of presbyopia and in parallel, has developed a unique expertise in orthokeratology and myopia management.
Recognized by industry professionals as the benchmark for technical expertise, we now offer a range of contact lenses that meet all optical needs, ranging from the simplest lens to the most complex.
Precilens is present in almost 20 countries around the world, thanks to various key steps that have led us to international success:
• 1984: Invention of the first progressive lens, the "C2".
• 2007: Launch of "BIB Excel": its "slab-off" technique revolutionizes the design of gaz permeable lenses for presbyopes.
• 2008: Launch of "C2 quarterly lenses", frequent replacement lenses for presbyopes and presbyopes with astigmatism.
• 2010: Launch of "Absolue", monthly silicone hydrogel lenses.
• 2012: Launch of "C2 multifocal" lenses, monthly silicone hydrogel lenses for presbyopes.
• 2013: Launch of the "Expert Progressive", a gaz permeable lens designed like progressive glasses lens.
• 2014: Launch of the "DRL night lens" with unique double reservoir design, marking an advance in slowing down the progression of myopia.
• 2017: Launch of Click&Fit software.
• 2018: Launch of "DRL PREVENTION night lens", specifically designed to prevent myopia in young children (< 7 years old).
• 2019: Launch of the "AMYOPIC" range available as soft and gaz permeable lenses: daytime lenses to control myopia when orthokeratology is unsuitable.

Our commitments
We design and manufacture tailor-made contact lenses. Armed with this know-how and aware that each eye has different needs, we are committed to providing ever more innovative and personalized solutions to meet the expectations of each wearer in complete safety. Our aim is to open up new opportunities in optical health, especially in the prevention of myopia in children and young people. To do this, we focus on three key areas:
INNOVATION

Our technological advances allow us to design ever more innovative geometries combining visual performance and ease of use. Therefore, we work closely with health professionals, research centres and universities.
INTERNATIONAL

The technical sophistication of our products as well as the expertise we have developed in presbyopia and myopia control have earned us international recognition in Europe, the USA, Japan and China.
HUMAN

Human relations are at the heart of our approach: respect, kindness, team spirit and transparency are strong values that are part of our culture and motivate us on a daily basis.
Our expertise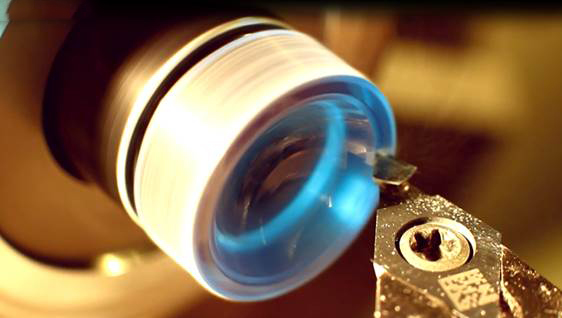 Experts in lens design for nearly 40 years, we have invested in nanotechnology and fully automated high-tech production tools, resulting in technological advances that allow us to design ever more innovative geometries combining visual performance and ease of use.
The process of manufacturing our lenses consists of three steps:
Step 1: The surface designs (anterior and posterior) and the edge of the lenses are created by software that calculates a mesh of 1 million points for each surface by applying the mathematical methods of raytracing, guaranteeing a continuity of the surfaces on more than 192 meridians.
Step 2: This computerized data is then transferred directly via computer files to multi-axis, multi-tool CNC machines, which machine both the inner and outer sides of a lens.
Step 3: Machine settings, process stability as well as the geometry and surface condition of the lens are controlled by an interferometer.
The organization of our laboratory complies with the requirements of European directive 93/42 and ISO 13485. All our products meet the requirements of the French Public Health Code. We are audited and certified by G.MED (certification body in the medical and health field) and are a member of the European Federation of the Contact Lens and IOL Industries (EFCLIN).