A unique know-how
In 1984, Precilens invented the world's first progressive soft lens. This invention, a milestone in the history of the contact lens, was followed by numerous advances in the development of ever more innovative designs.
Soft or gaz permeable, to be worn during the day or overnight (orthokeratology), the lenses for presbyopes offered by Precilens are considered as benchmarks in the industry and can meet all needs.
C2 soft lenses
The pioneering solution in soft progressive lenses for presbyopes.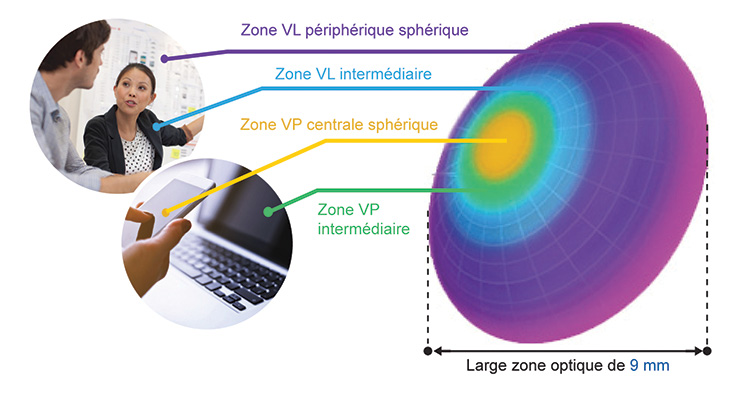 C2 lens design divided into optical zones
Thanks to their unique, patented design, C2 lenses benefit from an optical principle that guarantees clear, natural vision at all distances.
Located in the centre of the lens, the progressive correction (which allows to see clearly close-up and in the distance) is always placed in front of the pupil, making it possible to see well at all distances in all directions.
For reading, working on a screen, or driving during the day or at night, C2 lenses guarantee freedom and true visual comfort for wearers.
These soft lenses are available as monthly, quarterly and annual lenses.
Expert Progressive Gaz permeable lenses
The first gaz permeable progressive contact lenses whose visual performance is comparable to that of a progressive glasses lens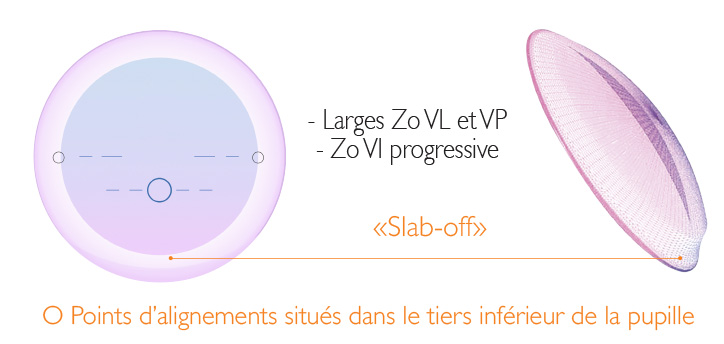 Design of the Expert Progressive lens with « Slab-Off »
The Expert Progressive contact lens has been designed like a progressive glasses lens: in its upper part it has a wide visual field for distance vision (DV), then an intermediate field of vision (IV) whose power of correction varies progressively to end up at the bottom of the lens with a wide visual field for near vision (NV).
Its « Slab Off » principle of translation and stabilization makes it possible to obtain an equi-thickness of the edges, guaranteeing wearers the same wearing comfort as that of a hard spherical lens (for myopic and hypermetropic patients).
For more information, visit www.expertprogressive.com