Orthokeratology is a principle of corneal reshaping which consists in wearing rigid contact lenses during sleep, to obtain a clear and natural vision during the day without need of visual equipment (glasses or lenses).
Also known as "night lenses", our DRL® lens range is a true alternative to refractive surgery, and helps correct:
Astigmatism
up to -4.00 D
Orthokeratology is also considered an effective solution to prevent and manage myopia in children and youth under the age of 25.
Although this technique is still not widely used in France, DRL® night lenses are custom designed and manufactured in the basement of our laboratory in Créteil, in the Paris region.
Orthokeratology: how does it work?
Origins
This innovative principle is in fact the result of an ancestral Chinese technique, where the myopic people placed on their eyelids small bags of sand before sleeping to reduce their visual disorder and to see better during the day. This technique has been proven for over 20 years and has benefited in recent years from major innovations, which have given rise to orthokeratology, commonly known as night lenses.
Functioning
These special contact lenses have a rigid material that respects the physiology of the eye and acts as a mold: the lens temporarily reshapes the cornea during sleep (for at least 6 hours) and gradually reshapes it until it regains a proper curvature. Thus, the corneal deformity that was at the origin of the visual defect disappears, and the wearer's vision is naturally clear as soon as the night lenses are removed in the morning, for several hours*.
It will take 7 to 10 nights of wearing to obtain an effective and optimal result. (*varies depending on the level of correction of the wearer). The corrective effect will last between 16 hours and 18 hours straight, and the visual defect will reappear after 24h to 48h, the time for the cornea to completely resume its original curvature. Therefore, it is essential to wear the lenses every night to enjoy a good vision quality.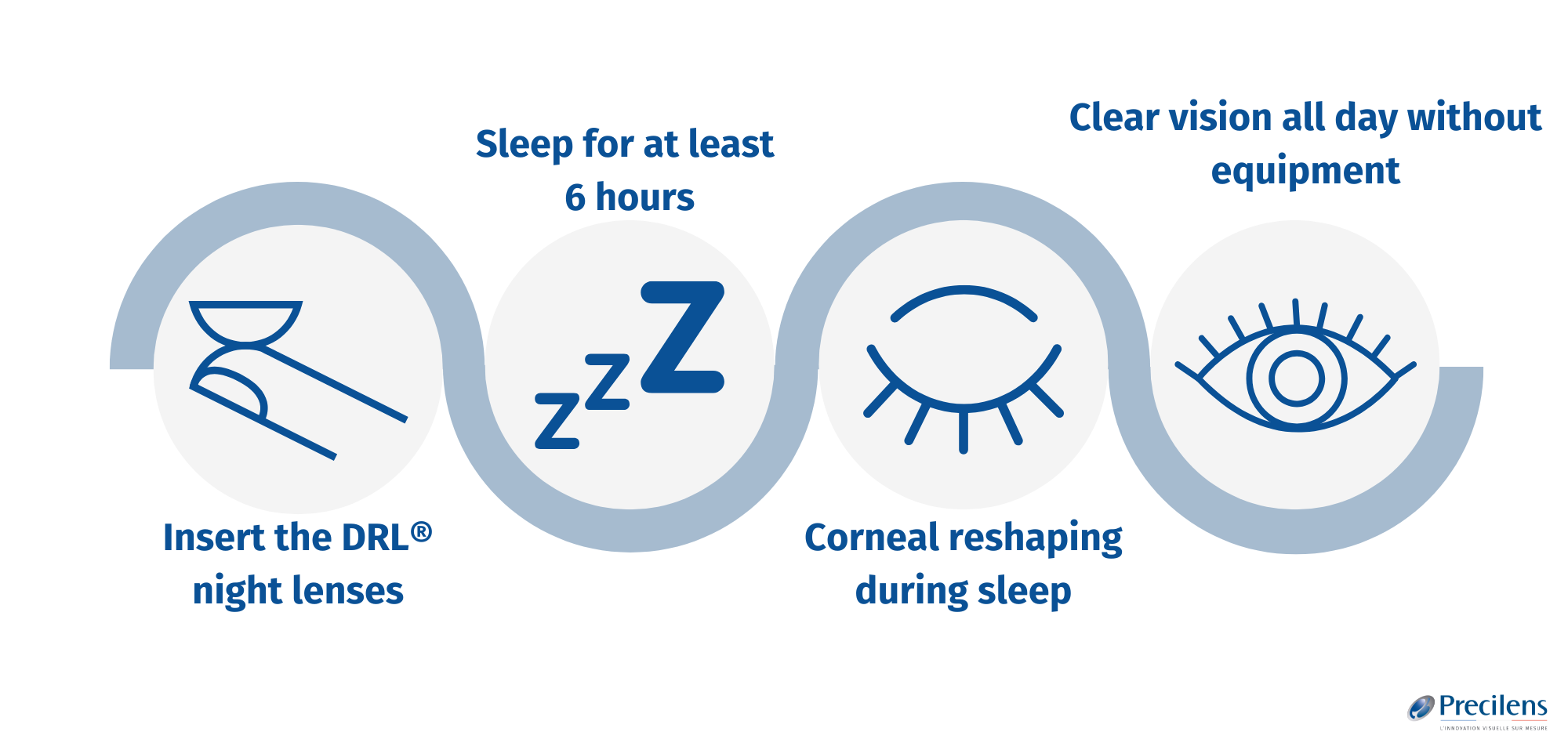 Another positive point ? Orthokeratology has the advantage of being non-invasive and reversible: individuals can stop wearing it at any time and choose another mode of correction.
DRL® lenses, the range of night lenses correcting all ametropia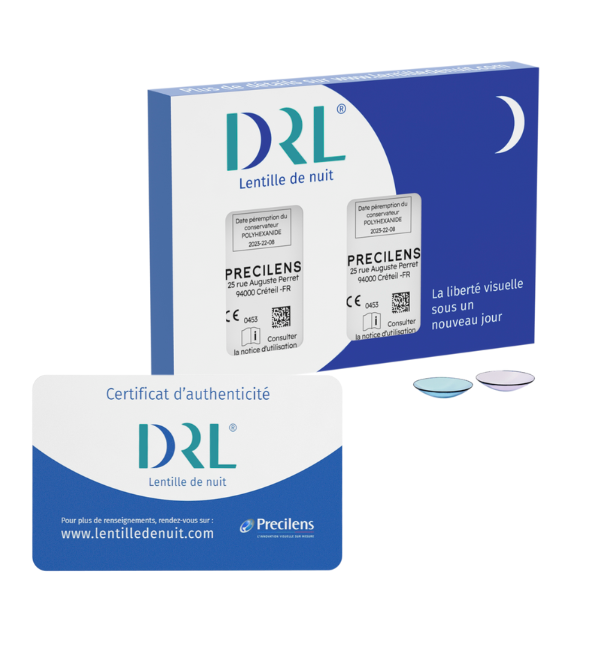 Since 2015, our laboratory has developed DRL® lenses with a varied geometry to correct major visual disorders. This innovative solution has the advantage of correcting several ametropia simultaneously, so that all children and adults can enjoy visual freedom in their daily lives.
The design of our night lens range features a unique and patented Double Reservoir of Tears. This allows a better centering, smoother movements of the lens as well as increased comfort and acceleration of the processing speed in at least 6 hours of wearing.

Tailor-made

Patended

Made in France
Therefore, from myopia control to presbyopia, discover the range of our DRL® range:
For myopic, hyperopes, astigmatic
DRL®
corrects myopia up to -7D
corrects hyperopia up to +4D
corrects astigmatism up to -4D
Renewal: every 12 months
Maintenance: oxidizing solution, comfort drops and enzyme tablets
For myopia mangement
DRL PREVENTION®
corrects low myopia up to -4D
DRL CONTRÔLE MYOPIE®
corrects myopia up to -7D
Renewal: every 12 months
Maintenance: oxidizing solution, comfort drops and enzyme tablets
For presbyopia
DRL Near
corrects presbyopia up to -3D
Renewal: every 12 months
Maintenance: oxidizing solution, comfort drops and enzyme tablets
Do you want to be equipped with night lenses?
Precautions
DRL® night lenses are medical devices whose adaptation must be prescribed by an ophthalmologist. Safe and painless, DRL® lenses are special lenses with a high permeability material, allowing for good oxygenation of the eye at night. Impeccable hygiene is also required to ensure safe wearing.
Instruction for use | User leaflet
⚠ Night lenses are not to be confused with daytime lenses (daily lenses, monthly lenses, quarterly lenses, etc.); the latter are only designed to be worn during the day and removed in the evening before sleeping. Wearing daytime lenses during sleep can cause serious complications, such as eye infections, corneal inflammation, or ulcers.
Advantages
Night lenses have many advantages, and can:
• Enjoy visual freedom as they offset the need for daytime equipment (contact lenses or glasses)
• Participate in sports, including water activities
• Avoid losing or breaking glasses
• Limit infectious risks
• Curb and correct myopia in children and youth
• Handle contact lenses under parental control (for children only)
Contraindications
If orthokeratology has many advantages, this technique has contraindications for people with:
• Pathology of the surface of the eye (infections, herpes, etc.)
• Significant allergies
• Pupil diameter too high
• Pupil diameter too high
• Irregular sleep
They are satisfied!
Hear from DRL® lens wearers.
« I can't live without it! »
⭐ ⭐ ⭐ ⭐ ⭐
The classic daily lentils were a bit awkward, and with my sport, always by mountains and by vaux, it was sometimes complicated! I carry out some regular checks at my ophtalmo and now I can no longer do without it...
Carole Bouzidi - Kayaker
« My doubts have dissipated… Her myopia has not changed in 2 years! »
⭐ ⭐ ⭐ ⭐ ⭐
My daughter has been nearsighted since birth and has worn glasses until the age of eight. His myopia increased every year until his ophthalmologist offered to equip him with night lenses. After much apprehension, the handling was relatively simple, and all my doubts dissipated when I saw the smile of Anna who could see very well without her glasses after the second night. She can play, play sports, swim freely!
Edith H. • Anna's mom • 10 years old
« I am very satisfied with this system and it is for me a good alternative to myopia surgery! »
⭐ ⭐ ⭐ ⭐ ⭐
I have been wearing night lenses for 3 years and their adaptation went very well. What is practical with orthokeratology is that you absolutely do not feel the lenses on the eye during the night and that the day you wear nothing: neither glasses nor lenses! The effects last even for 2 days if I forget to put my contact lenses on one night.
Jonathan M. • 28 years old • Accountant